Topic:

Pingao
Topic type:
The Pingao plant , also known as Golden Sand Sedge or Pikao, has the National Threat Category of Gradual Decline (2005). Te Arai Beach has a relatively intact natural fore dune with good populations of Pingao.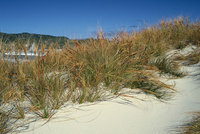 Photo courtesy of D.O.C.
Pingao, also known as Pikao or Golden Sand Sedge, is one of the most colourful additions to Te Arai beach. Its stout yellow-green leaves turn a rich golden when dry. This golden colour sees it highly prized as a weaving material. Pingao is also very important to the natural ecology of New Zealand's coastline.
The long rope-like roots of the Pingao plant have adapted to the constant shifting of sand found across dune systems. It actually favours sloping and unstable surfaces and active dunes. It can be found along the back dunes and even on the tops of sand hills provided there is moving sand. Active, unstablised, dunes have become a rare ecosystem type in New Zealand and in turn have threatened plants such as pingao which rely on moving sand.
Pingao is considered a keystone species in that it contributes to the prospering of further biodiversity.The establishment of its roots creates small gullies and mounds. The gullies provide moist and sheltered spots for other rare coastal plants, such as Sand Coprosma, and Sand Tussock to grow.
Pingao is also useful to the Katipo spider as the plant's relatively open weave provides a perfect backdrop for the spider to spin its web. The introduction of marram grass to stabilise dunes has contributed to the decline not just of Pingao but also of Katipo who are deterred by Marram's tight knit. Segments of Te Arai's Pingao populations have survived as well as having been augmented by planting. Even in its modified state, Te Arai's front dune system remains relatively intact compared to other Auckland dunes. This is reflected by the abundance of Katipo found at Te Arai when nationally Katipo populations are in serious decline.
Pingao is endemic to/found only in New Zealand, in the North and South Island as well as the Chathams and Stewart Island. Nationally the populations of Pingao represent a tiny proportion of what would have occurred prior to human interventions. Natural dune ecosystems themselves are classed as Nationally Rare with only 11.6 of their original extent remaining (Stanley 2010).
Threats
Competition from introduced marram grass (Ammophila arenaria), dune stabilisation and compaction, harvesting, trampling, vehicle traffic and browsing animals. Because this species is wind-pollinated, individuals of small, isolated populations may not receive pollen during flowering, and therefore there will be no seed production. Also because Te Arai is an exposed high energy environment we lose pingao plants to storm damage and coastal erosion. The big storm in January 2011 reshaped the Te Arai stream mouth with the loss of hundreds of pingao plants.
How You Can Help
The best thing visitors can do to help Pingao prosper is keep to the designated paths when coming in and off the beach and keep all vehicles, mountain bikes and horses off the dunes.
Biology
Flowers spring and early summer, fruiting late in summer. More information in attached document.
was the last to edit Pingao
on Dec 9th, 2011 at 10:17 AM
created Pingao
on Sep 2nd, 2011 at 12:47 PM