Topic:

Banded Dotterel
Topic type:
The Banded Dotterel, also known as Tuturiwhatu or Double Banded Plover, holds the 2008 National Threat Category of Nationally Vulnerable.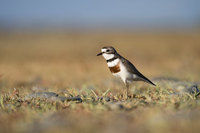 Banded Dotterel (Charadrius bicinctus)

The Banded Dotterel's strident black and red bands are the most striking during breeding season between July and September.
Like all plovers, the Banded Dotterel has a stop, run-stop-look-step-peck feeding routine. They also have a foot tremble in damp habitats.
The call of the Banded Dotterel is a fast rolling che-ree-a-ree, accentuated on the second syllable. They let out a high pitched pit or chip in defence on their territory.

Range and Habitat
Breeds on the shingle riverbeds of Hawke's Bay, Manawatu and the Wairarapa and on the braided riverbeds of Marlborough, Canterbury, Otago and Southland. After breeding most birds head to the northern North Island of New Zealand or Australia.

Biology
Breeding from July through to September. Nests are consolidated sand, shingle, shell and dirt. These birds can have up to four eggs per clutch , both parents incubate for a total period of between 25-27 days. Diet includes a variety of insects supplemented by occassional berries and plants. On riverbeds, marsh turf habitats of lakeshores and estuarine mudflats, they take midges, worms, caddisflies and mayflies.
Threats Habitat loss, predation and human disturbance.
was the last to edit Banded Dotterel
on Sep 29th, 2011 at 12:24 PM
created Banded Dotterel
on Sep 2nd, 2011 at 12:28 PM