Topic:

Rawiri
Topic type:
Rawiri, or Manuka Rawiri, is actually a rare species of Kanuka, it has a National Threat Category of Declining. Te Arai is the one of the few places left in the Auckland Region where this plant occurs naturally.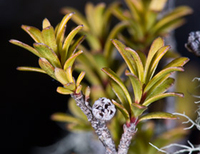 Photo from www.nzpcn.org.nz
Rawiri (Kunzea ericoides var. linearis)
Rawiri is a small tree between 2 and 10 metres tall, usually with a single slender trunk. Its branches are numerous, slender, erect and rather brittle with very britte branchlets. Its bark is chocolate brown to grey tessellated, somewhat "bubbly", Its leaves are bright green, dark green or glaucous. Flowers (4.5-)8(-12) mm diam., apparently without scent. Seeds numerous, rather fine, orange-yellow.

Range and Habitat
The Te Arai region has important natural populations of this plant for the Auckland Region. There are occasional specimens in Auckland City and on Great Barrier Island that are probably not natural but are the result of plantings from un-ecosourced material. Distribution: Endemic to the northern North Island where it is most abundant from Kaitaia north. In the west it extends south to the Pouto Peninsula but it is very disjunct and generally scarce. In the east it extends almost to Pakiri, then occurs locally around the Waitemata Harbour with spot occurrences on Great Barrier Island, near Miranda and on the Hapuakohe Range. There is some evidence to suggest that these southerly occurrences are not natural. Habitat: Coastal shrublands and cliff faces, usually on sand, sand podzols, and/or sandy peats. Rarely on podzolised clays or sandstone bluffs. Occasionally found inland.
Biology Flowering: October- February Fruiting: December to June.
was the last to edit Rawiri
on Dec 16th, 2013 at 9:30 AM
created Rawiri
on Sep 2nd, 2011 at 12:19 PM