Topic:

White Fronted Tern
Topic type:
White Fronted Tern, also known as Tara, have the 2008 National Threat Category of Declining. They nest in large numbers at the Mangawhai Wildlife Refuge and use Te Arai Beach, Stream and lakes for fishing and the Te Arai stream mouth as a high tide roost.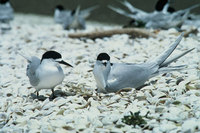 Photo by Dick Veitch
White Fronted Tern (Sterna Striata)
White Fronted Terns are gregarious and flock in large colonies usually between 50 and 200 pairs. Distinguishable from the Black Fronted Tern by its pristine white belly and a marked white stripe above its beak. "Their aerial manoeuvres are truly beautiful; and the apparent ease with which they dip into the water and catch their finny prey cannot fail to interest an observer" Buller 1888.
Range and Habitat
Our most common tern, the White Fronted Tern breeds almost exclusively in New Zealand with the exception of a few that breed on islands in the Bass Strait, Australia. In Autumn large numbers migrate to the south eastern coast of Australia, mostly in the New South Wales. Some however winter over in New Zealand. Mainly coastal they do visit lakes including Rotorua and Taupo. White Fronted Terns nest in large colonies on beaches, low lying sandspits, shingle or shellbanks.

Biology
Breeding from mid October to January. They lay 1-2 eggs that range from pale green blue to light brown in colour with an array of spots. Incubation last around 24 days. Chicks fledge(can fly) after 29 days. Adults continue to feed their young up to three months after this point. Young birds can start breeding after three years.
Threats Habitat loss, predation, human disturbance and storms.
was the last to edit White Fronted Tern
on Jan 25th, 2012 at 4:31 PM
created White Fronted Tern
on Sep 1st, 2011 at 5:55 PM