Topic:

Katipo Spider
Topic type:
The Katipo spider has the 2005 National Threat Category 2005 of Serious Decline. While nationally in decline, katipo are abundant at Te Arai.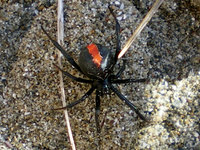 Photo by Tom White.
Katipo (Latrodectus katipo)

Katipo, or 'night stinger' is the name given to New Zealand's Red Back spider. The katipo can be found in Northland and Auckland in two forms, entirely black and black with a red stripe across its back. Both are now considered the same species L.katipo.

Range and Habitat
The katipo is abundant along the shores of Te Arai because of its relatively intact foredunes. They often rest in amongst the driftwood and spin their webs on the seed heads of the pingao plant. The spiders are found amongst grasses, sedges, driftwood, and flotsam on sandy beaches throughout New Zealand. The black form of katipo appears to be confined to the northern half of the North Island, while the red-striped form can be found south of there, reaching its southern limit on the Otago coast. On the South Island's West Coast it occurs from Greymouth north.
Biology
Katipo typically catch ground-crawling insects such as beetles. After mating in August or September, the female produces five or six egg sacs in November or December. Egg sacs are guarded by the female in her lair.

Threats Habitat loss, competition with introduced species.
Conservation Due to its steady population decline, katipo is now classified as Absolutely Protected under the Wildlife Act. Learn more from the attached documents.
Medical Katipo are of medical importance because of its neurotoxic venom (Paquin et al 2010). Its bite is administrated by the female only as the male spiders' fangs are too small. 19th Century tales of fatal bites are today considered of dubious merit and the venom whilst painful is unlikely to be fatal. If bitten antivenom is available from hospitals. A localised application of an ice pack will slow the release of the antivenom.


was the last to edit Katipo Spider
on Dec 9th, 2011 at 9:15 AM
created Katipo Spider
on Sep 1st, 2011 at 5:48 PM