Topic:

New Zealand Fairy Tern
Topic type:
The New Zealand Fairy Tern, also known as Tara Iti, is New Zealand's rarest bird. With only ten to eleven breeding pairs remaining, it is Critically Endangered. Te Arai Beach is an important habitat for them. Their main nesting site is at the Mangawhai Wildlife Refuge, and they feed, roost and nest prospect along the Te Arai coast. Before their numbers plummeted, they nested at the Te Arai Stream mouth and they are expected to return there as the population rises. In November and December of 2012 a fairy tern pair nested at the stream mouth though the nest was abandoned/destroyed before any chick could hatch.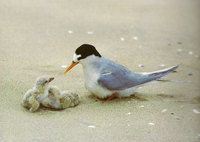 New Zealand Fairy Tern (Sternula nereis davisae)
The Fairy Tern is characterised by its delicate proportions and swift flight. Walter Buller in 1888 described the fairy tern as "very active in its movements, flies high, turns in the air with facility, and dips into the water in a very adroit manner". Buller also described the bird as very 'clamorous' during breeding. This tiny tern is a fierce defender of its nest and young and will dive bomb and defecate on any incoming visitors it perceives as a threat. It can be seen fending off birds far larger than itself including Black-backed gulls and the Caspian Tern (which at 700 grams weighs ten times the amount of a fairy tern).

Unlike all other tern species breeding in New Zealand, the New Zealand fairy tern does not nest in conspicuous colonies. Their nests are often kilometres apart. At Mangawhai 2006-07, the minimum distance between any of the five breeding pairs' nests was c. 900 metres. (Brogtrop 2007).

Range and Habitat
The New Zealand fairy tern were found around both coasts in the north island and from Christchurch north on the east coast of the south island but habitat destruction has limited its breeding sites now to just four places in Northland and Auckland - Waipu, Mangawhai, Pakiri on the east coast and Papakanui Spit on the Kaipara Harbour. See the distribution maps attached.
Biology
The Fairy Tern numbers dropped down to only a few pairs and were saved from extinction by management by the Wildlife Service beginning in the 1980's. They were still nesting at the Mangawhai Wildlife Refuge but had not nested at Te Arai regularly since the 1960's. Over the last few years pairs have prospected again at Te Arai and one pair began a nest at the stream over November/December 2012. Now they visit the Te Arai Stream mouth to fish in the stream and roost at high tide. Their young are taught to fish at Te Arai Stream, as well as nearby lakes.

Breeding from November to January, they usually lay two eggs per clutch and will re-nest if their clutch is destoyed in a storm or raided. Nests are shallow unlined scrapes in the sand, with preference given to patches of broken shell, especially scallop shells. Male and females share the inclubation which takes between 23-25 days. Chicks fledge (can fly) after 22-23 days.
Threats Habitat loss, predation, human disturbance and storms. Click here to read Rosalie Stamp's 2010 report on the threats at Te Arai.
Conservation
As New Zealand's most threatened bird the Fairy Tern population is actively managed by D.O.C. Wardens are employed at the four remaining breeding sites each summer. Pest control, monitoring and visitor management duties are undertaken. The wardens are often assisted by volunteers. If you would like to help contact Jane Vaughan on 09 4315 828.
was the last to edit New Zealand Fairy Tern
on Dec 4th, 2013 at 10:10 AM
created New Zealand Fairy Tern
on Sep 1st, 2011 at 5:24 PM