Topic:

Auckland Green Gecko
Topic type:
Auckland Green Gecko, also known as Kakariki, holds the 2009 National Threat Category of At Risk- Declining. They have be found within the rare peat shrublands of Te Arai.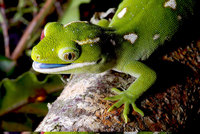 Auckland Green Gecko (Naultinus elegans elegans)
Of the Naultinus Genus, has an average length of 145 mm and weight of 11 grams. Brilliant green with blue-black tongue. A small and slender species. Bright green either uniform or with rows of pale green, white, yellow or pinkish spots, or continuous stripes finely edged with black. Yellow individuals are known, with similar markings or stripes, but are more common among captive populations than in the wild. The gecko's eye is light orange to brown in colour. Their mouth lining is blue and tongue a black or bluish-black. The soles of their feet and toes are grey-green.
New Zealand lizards are unusual in that aside from the egg-laying skink, they are all are viviparous – that is they give birth to live young. The eggs hatch in the female's oviduct before the youngsters are born. Vivipary is thought to be an adaptation to New Zealand's cooling climate during the ice ages – most other viviparous lizards occur in colder regions of the world (Kerry-Jayne Wilson, 2009).

Range and Habitat
Central and northern North Island, south from the Bay of Islands to approximately north of a line from Wanganui to East Cape. Present on some large or sheltered islands including Great and Little Barrier, and Waiheke (Robb and Hitchmough 1980, Dick 1981, Ogle 1981, McCallum and Harker 1982). The absence of this species from many smaller islands may reflect specific habitat preferences likely to be found only in larger continuous areas (Bauer 1986).
Biology
Birth occurs during August to October (Robb 1980) after a gestation of approximately nine to eleven months. Can reproduce after three years. (Hitchmough 1979). Longevity in captivity ranged from 10 to 23 years (Soderstrom 1977, Rowlands 1981, Robb 1986).
Threats
Habitat loss, predation, human disturbance and storms.
was the last to edit Auckland Green Gecko
on Jan 31st, 2012 at 3:22 PM
created Auckland Green Gecko
on Sep 1st, 2011 at 12:34 PM