Topic:

Sand Tussock
Topic type:
Sand Tussock has the National Threat Category of Gradual Decline (2005). The dunes at Te Arai provide an important home for this threatened plant.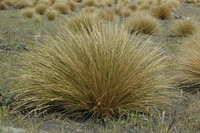 Photo by Tony Silbery.
Sand Tussock (Poa billardierei)

A dune plant with yellow-green tussocks up to about 70 cm tall. Its leaves are fine, rolled, and somewhat drooping (coarser than silver tussock). Initially green, often fading at tips to silver, and drying to golden-straw colour. The seed heads of Sand Tussock are no longer than its leaves; seeds relatively large, barley-like, leaving a characteristic zig-zag look to the remaining head when fallen.

Distribution
North Island, South Island, Chatham Island (apparently absent from Chatham Island now despite being formerly abundant). Also found in temperate Australia. Habitat-Coastal dunes; sandy and rocky places near the shore, especially foredunes and dune hollows.
Biology Flowers in early summer, Fruiting in mid to late summer.

was the last to edit Sand Tussock
on Jan 25th, 2012 at 4:07 PM
created Sand Tussock
on Sep 1st, 2011 at 11:21 AM