Topic:

Sand Coprosma
Topic type:
Sand Coprosma is a coastal shrub with the national threat category of Gradual Decline(2005). Several hundred plants have been located at Te Arai Beach.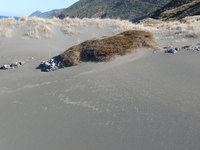 Photo by Tony Silbery
SAND COPROSMA(Coprosma Acerosa)
A low lying sprawling shrub with very narrow, sharp-pointed, yellowish or brownish leaves, red bark and blue berries. Sand coprosma is known as a part of a series of 'moa-shy' shrubs. Atkinson and Greenwood (Cooper, 1993) hypothesise the divaricating of plants such as Coprosma evolved in response to the browsing habits of moa. That the plants have grown more low-lying with a thicker exterior twig to leaf ratio, making it a less appealing browse for the moa. Coprosma acerosa forms a tightly tangled mound of brown foliage with wiry, reddish-coloured, interlacing twigs seldom higher than a metre.
The blue fruits of Coprosma acerosa have been used in studies of the feeding habits of Weta. Scientists Fadzly and Burns coloured the naturally blue fruits red and found that "Weta preferred unmanipulated, naturally blue-streaked fruits and artificially-blue coloured fruits over those dyed red. Furthermore, their colour preferences were unaffected by light environment. Our results therefore suggest that weta can discriminate between colours (using colour vision) in both light and dark light environments. Their consistent preferences for colours other than red indicate that weta might be responsible for the unusual colours of fleshy-fruits in New Zealand".
The Sand coprosma has long been the site of scientific enquiry in New Zealand, in 1949, Briggs and Thomas chemically extracted the bark of this shrub to produce yellow, orange and red dyes.
Found only in New Zealand, on the landward side of coastal sand dunes. Within the Auckland Region they can be found=
Mainland – Muriwai Beach (100's of plants), Karekare (<20 plants), Karioitahi/Awhitu (c. 50 plants), Tawharanui (7 patches, c. 70 plants), Te Arai (16 patches c. several hundred plants).Islands – Great Barrier (unknown but uncommon c. <20 plants) (deLange 2009).
Biology

Flowering: September to December.
Threats

Rapidly becoming endangered as sanddunes are developed or grazed.
was the last to edit Sand Coprosma
on Jan 25th, 2012 at 4:06 PM
created Sand Coprosma
on Sep 1st, 2011 at 10:32 AM